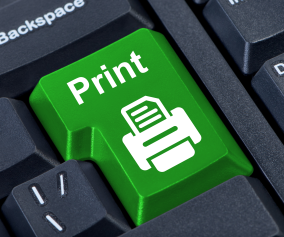 How simple is your printing?
Printing should be simple, like pressing a button. If printing is more difficult in your organization, then you might need a print management software that automates any number of complex print tasks.
With RPM our approach to making complex print jobs practical is to build a set of tools you can use to make a print workflow that does what you want.
If we simply fit the software around a set of "magic bullet" features then you'd be limited to what we provide you. Instead, with RPM you can define a print workflow that does what you want.
About print workflow
Let's compare several examples doing the same common tasks with traditional print servers, and the RPM print server.
Let's now compare common virtual print operations using traditional products versus the RPM virtual printer.
Traditional virtual printer
RPM virtual printer
Options to generate PDF
Send Windows print job to a PDF driver
Convert many print formats from many types of systems to PDF
Where to put your PDF
Archive to disk

Several or all of the above

What to name your PDF

Source document name

Source document name
Date & time stamped including month and day names
Originating hostname and username
Unique job ID
Contact us now!
The next move is simple: contact us now or give us a call at +1 208-523-6970 to talk about your print scenario! And don't forget to download RPM today!