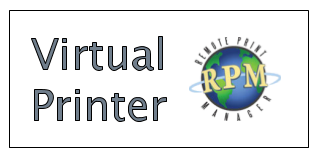 Reduce your company's overall dependency on physical printers, decrease workplace paper waste, and drop print costs—all the while doing your part to save the trees of our planet. RPM Remote Print Manager® (RPM) is a printing manager and virtual printer software combined. RPM effectively streamlines workflow and cuts down printing costs in companies.
A Virtual Printer Software is an Asset
The average employee uses 10,000 sheets of paper each year, and 45 percent of all that is tossed in the trash daily. This is according to Record Nations, an online marketplace for records storage and document scanning.
Companies spend thousands of dollars each year in print costs, and many are unaware. So you could be spending around 3 percent of your enterprise or business's revenue on printing without knowing.
The paper isn't the only cost that a virtual print server reduces. There is also the cost of print hardware and any new machines added to your infrastructure. Not to mention consumables like toner, ink, and the overall inevitable maintenance cost when you have plenty of print devices. The money adds up fast.
Fortunately, virtual printer software like RPM can reduce that entire overhead cost.
The #1 Virtual Network Printer Among Virtual Printer Solutions
Does the following sound familiar? You receive tons of documents daily (routine or otherwise) and typically know what needs to be done. Therefore, you don't need most documents printed. However, they are printed anyway because your printer outputs the file automatically, which is a common occurrence in workplaces.
RPM solves that problem because it doesn't need a printer. Instead, it simulates printing but outputs your files digitally. Documents can then be printed on request instead of automatically. That means users or employees can decide whether or not and when files should be printed on sheets of paper.
In short, RPM digitally saves high-quality print-ready documents instead of immediately sending files to a printer for output. You can set up RPM to automatically send documents to a printer for printing if that is your preference.
Simply The Best Virtual Printer For Windows
Fulfilling the tasks of printing with print-ready files as the end result opens up a plethora of features that help you manage cost. Documents can be produced in a variety of formats and RPM ensures output formats are secure and consistent across Windows operating systems.
Save or Re-save Documents As You Desire Them
RPM is a universal virtual printer for Windows. You can configure RPM to save documents as PDF, TIFF, PCL, and other formats. Most documents are supported. Even native printer-ready files.
Quickly Add Watermarks to Documents
A watermark can protect some of your documents from theft and is a good addition to your marketing strategy. RPM's virtual image printer driver can add watermarks to specific documents automatically.
Fax Print Jobs Straight From The RPM Virtual Printer Software
You can email print jobs to fax phone numbers and the entire process is really simple. Firstly, RPM converts the file to your desired format. Secondly, the virtual printer adds any watermarks required. Thirdly, it sends your print job to the fax phone number.
RPM's data extraction feature can even pull fax phone numbers from documents. If you can properly configure the data extraction, then you don't have to manually specify fax numbers, and team Brooks can help you with it all.
Print Multiple Pages On One Sheet of Paper
You can print as many pages or documents as you'd like on one sheet. RPM is also extremely flexible so you may use a third-party app if your printer doesn't support this feature. Feel free to contact us to discuss your unique enterprise situation, and maybe we can develop additional custom features for you.
RPM Virtual Printer Has Wide Support For Conversions
Convert practically any file into print formats like PDF, PCL, TIFF, and others. Also, RPM virtual printer includes support for several network print protocols like LPR/LPD (Line Printer Daemon) or TCP port 9100. That means your documents will be securely and efficiently delivered to printers (single Windows or shared printers).
Brooks Has Developed Virtual Printer Software Since 1995
Brooks is a leading print management and virtual printer solutions provider in the USA. Our virtual printer software assists organizations in staying productive. Also, RPM helps Windows operating systems communicate with non-Windows systems such as macOS.
Many enterprises trust our virtual printer software, including a long list of Fortune 500 companies that use it. Our mission has always been to enable businesses to operate more efficiently and productively, which leads to increased profits.
Download Your Free Trial And Start Enjoying These Benefits Now
Save time and resources/money when you transition to a digital filing model. You can store more documents digitally than you ever could physically. Do yourself a favor and eliminate the constant need to keep purchasing additional filing cabinets.
Use RPM virtual printer to enhance workflow and future-proof your work because of how flexible it is to convert practically any document.
Customize your virtual printer to operate the way you want it to, such as specifying custom fax profiles or cover pages.
Enjoy paperless printing and faxing with advanced print management options using RPM. Preview documents before printing or faxing them so you can correct any errors (e.g., removing unwanted texts or pages).
Convert files to document types that won't cause compatibility issues on specific systems. Formats such as PDF, JPEG, PNG, TIFF, BMP, and more are supported. Any operating system can read these documents even if it is missing the appropriate fonts.
More Than a Virtual Network Printer
Our virtual printer software is suitable for all Windows machines and can be an invaluable extension of your physical printer. RPM is what organizations that want to save money while going beyond the regular features offered by printers use.
The benefit of using RPM is a massive list, and we can't wait to help you discover all of them. Now you can protect document integrity by ensuring information looks the same when printed and viewed on a computer screen.
You can start reducing your print cost today, which increases your organization's bottom line over time. Contact us now to start your free 21-day trial or use the download link to get a copy.